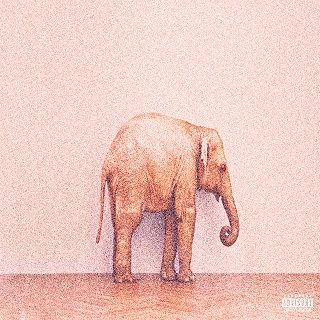 "Elephant in the Room" single artwork
2018 was an eventful yet quiet year for Lefty Rose.  This past year I was able to have an event to screen the Road to Haywards Hotel mini documentary, I rocked one of my dopest sets in years as a special guest at DJ Ethik and Mahtie Bush's album release and I was featured on JÄYWLKR's first single "Elephant in the Room".  In the past, I would have considered this a down year.  Why?  I wasn't as active as before.  What I've learned over the years is impact matters more than quantity.  Less is more sometimes.  With my focus shifting to other endeavors, when I do anything Lefty Rose related, I want it to have an impact.  Although I don't release as many songs as I did earlier in my career, I still have the same passion to rhyme (when inspired).  With the way things were going in 2018, I was inspired to write "Elephant in the Room".  I don't want to rap just for the sake of rapping anymore.  I may not be heard very much in 2019, but when you hear me I want it to mean something.  That's my one and only goal as an artist now.
Stream JÄYWLKR's "Elephant in the Room" featuring Lefty Rose by clicking on the artwork above.